Nursing in a Baby Carrier: You Can Do It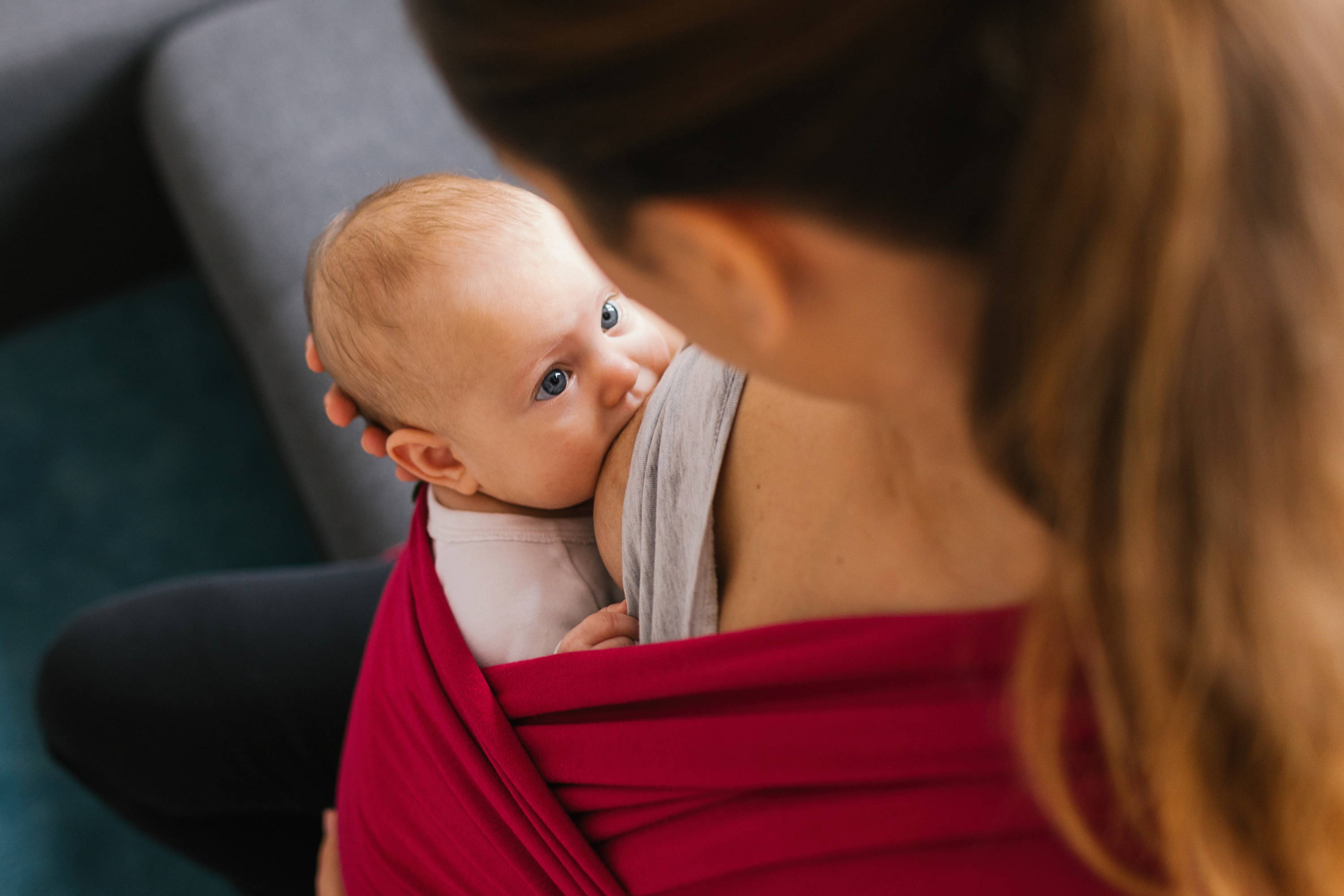 Learning to breastfeed in a baby carrier means freedom for mom and contentment for baby!
Babywearing can facilitate a stronger breastfeeding relationship, as more skin to skin means more prolactin hormone and it has even been proven, that babywearing actually seems to significantly improve breastfeeding rates!
Boba baby carriers allow you to nurse comfortably and discreetly even while out on a hike, at the playground with your big kiddo, shopping or making yourself a cup of coffee….

Read on for more tips on nursing in the Boba Wrap, Boba Air or Boba X!
... some tips for nursing in an upright position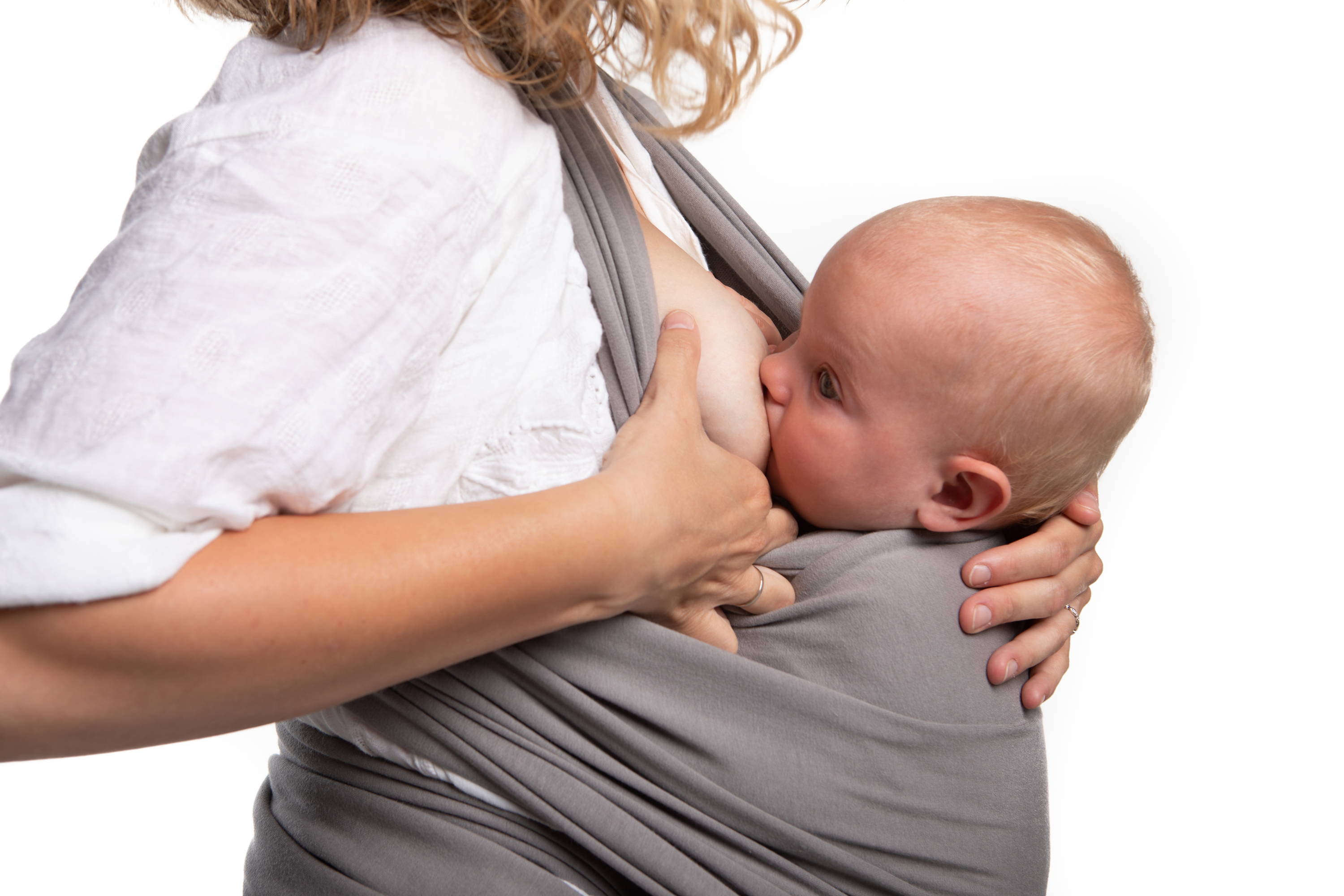 When nursing in an ergonomic baby carrier you will stay in a tummy to tummy position with your baby and your baby will be completely vertical.  
Latching in an upright position is a bit different to latching in a cradle position (like you might nurse when sitting down).
When nursing upright lift your breast closer to your baby's mouth - this will make it easier for your baby to latch. You might have to support the breast with one hand if you will be walking or hiking. Even if it doesn't allow you to nurse completely "hands-free", you will still have one free hand, yay!

Left: "C-hold" Middle: "scissors hold" Right: "U-hold"
A good hold for nursing in an upright position (in a carrier) is the "C hold" - place your thumb on top of the nipple and other fingers underneath it (like you would hold a sandwich).
You can also use the "scissors hold", where you put your forefinger and thumb on top of the nipple/breast and other three fingers under it for support.

There's also the "U hold" you can use, where you go underneath your breast, but this one might be trickier when breastfeeding in a carrier.
These holds will make it easier for your baby to latch and ensure that your baby has adequate space under his nose.
Note that you might need to help keep proper positioning of your baby's head or body while nursing if your infant is still very small, .
Try nursing in a carrier at home at first when your baby is calm and content. Nursing in a carrier without a shirt on is a good place to start, plus you get some skin-to-skin time with your baby too!

It is actually easier to nurse in a carrier while standing up!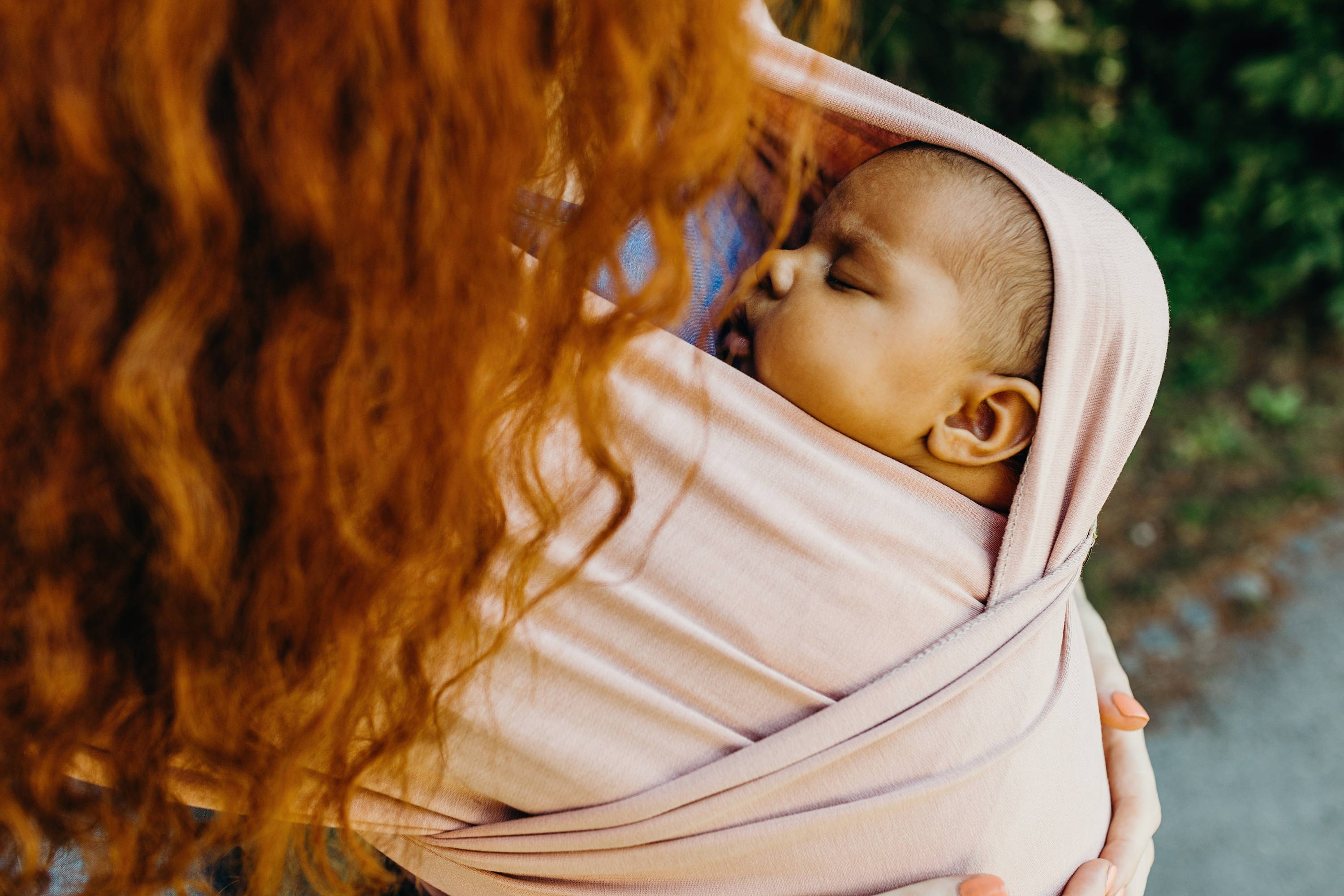 Your baby is very likely to fall asleep while nursing snuggled in your warm embrace - when they do, reposition them in a safe, snug and upright position where they can sleep in contented peace. You can use part of the wrap to support their head (or just snap one side of the hood if using a carrier) and keep them napping!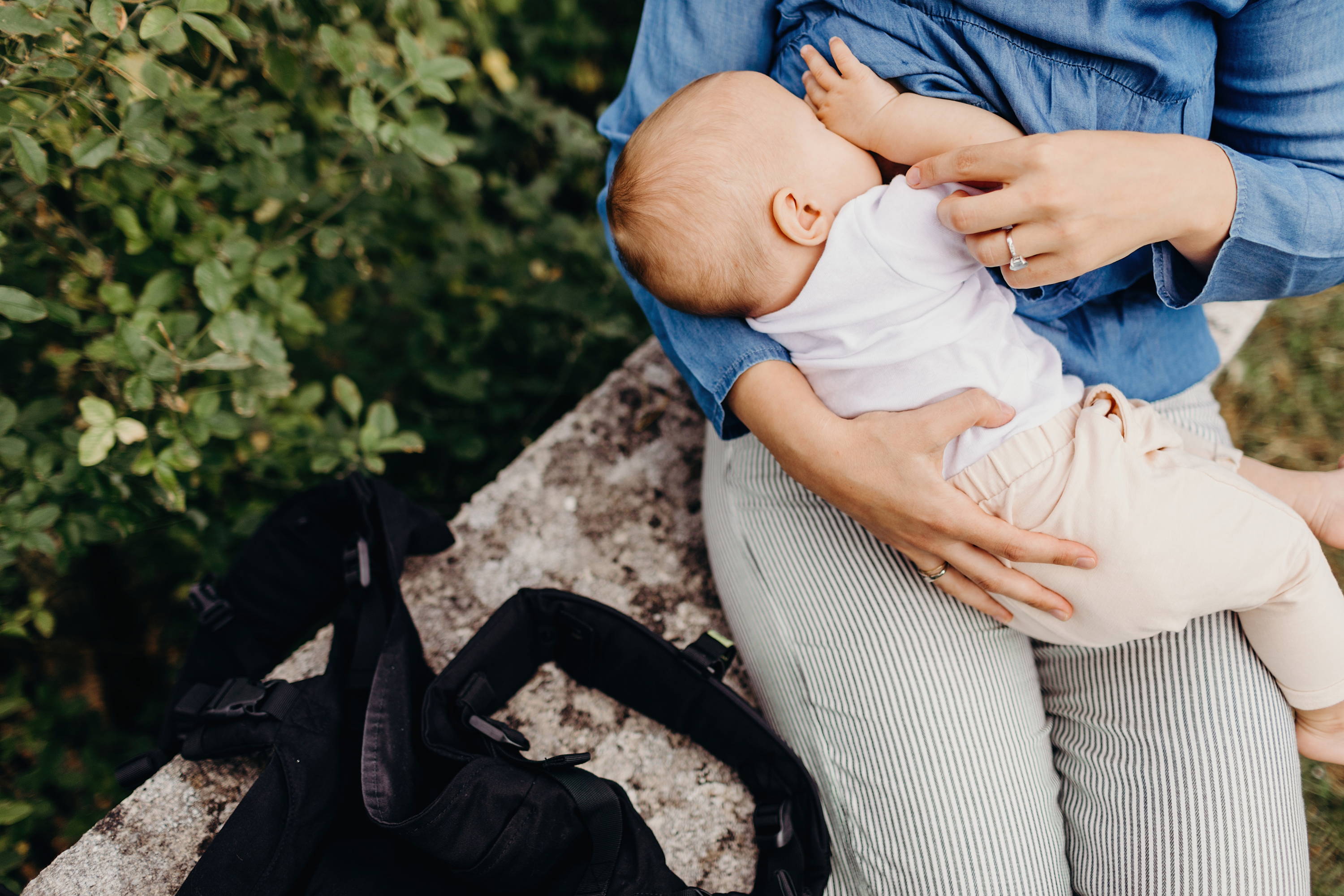 Don't be discouraged if you and your baby need a couple of tries to nail nursing in any carrier. We all know babies easily get frustrated if they can't latch on immediately, so don't stress and just take your baby out of the carrier all together and nurse her in your arms.
The wrap (that you are still wearing) works as an amazing cover-up if you want extra privacy!
... some tips on what to wear when nursing in a carrier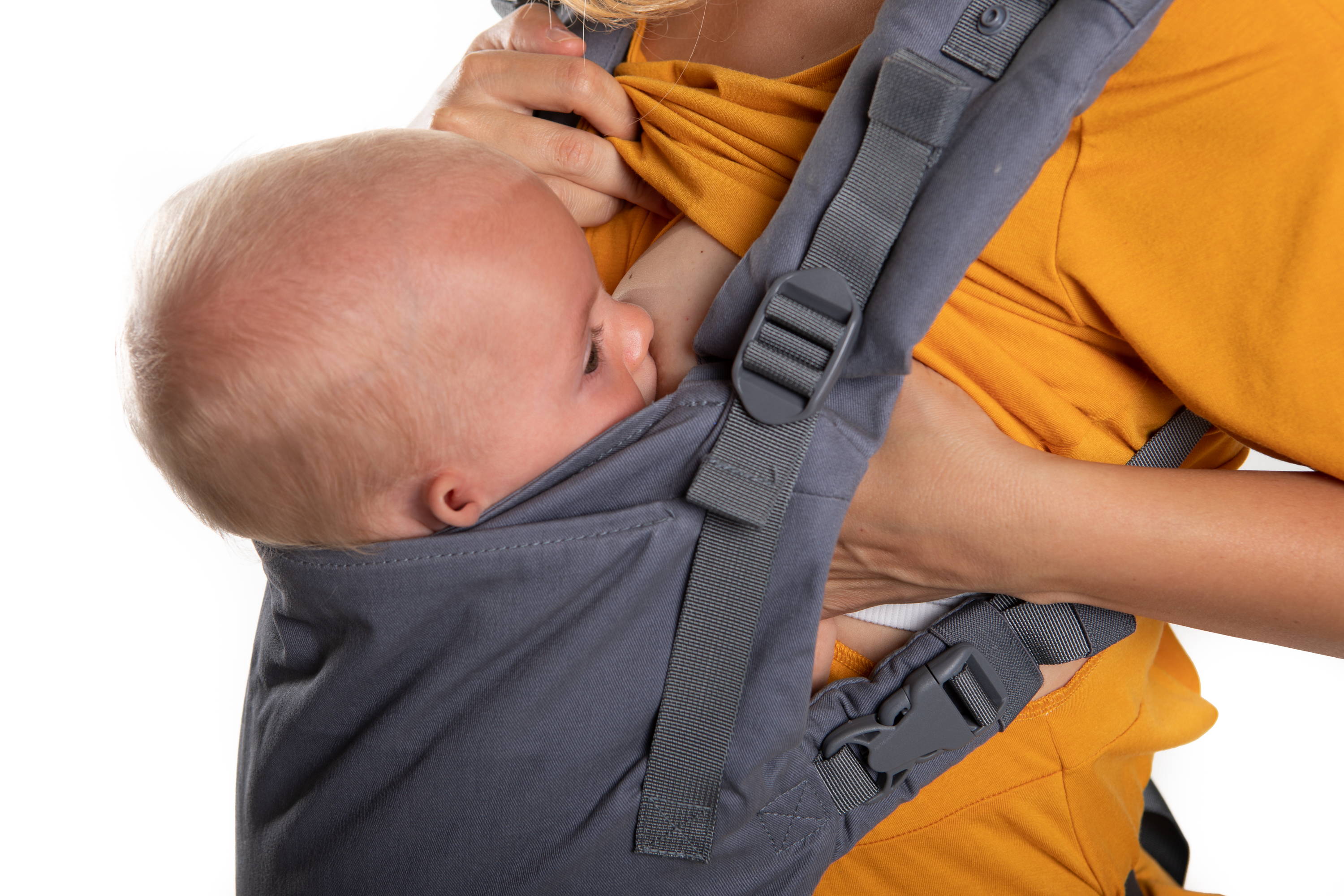 Nursing shirts are nice to have, but definitely not a necessity even when trying to nurse discreetly.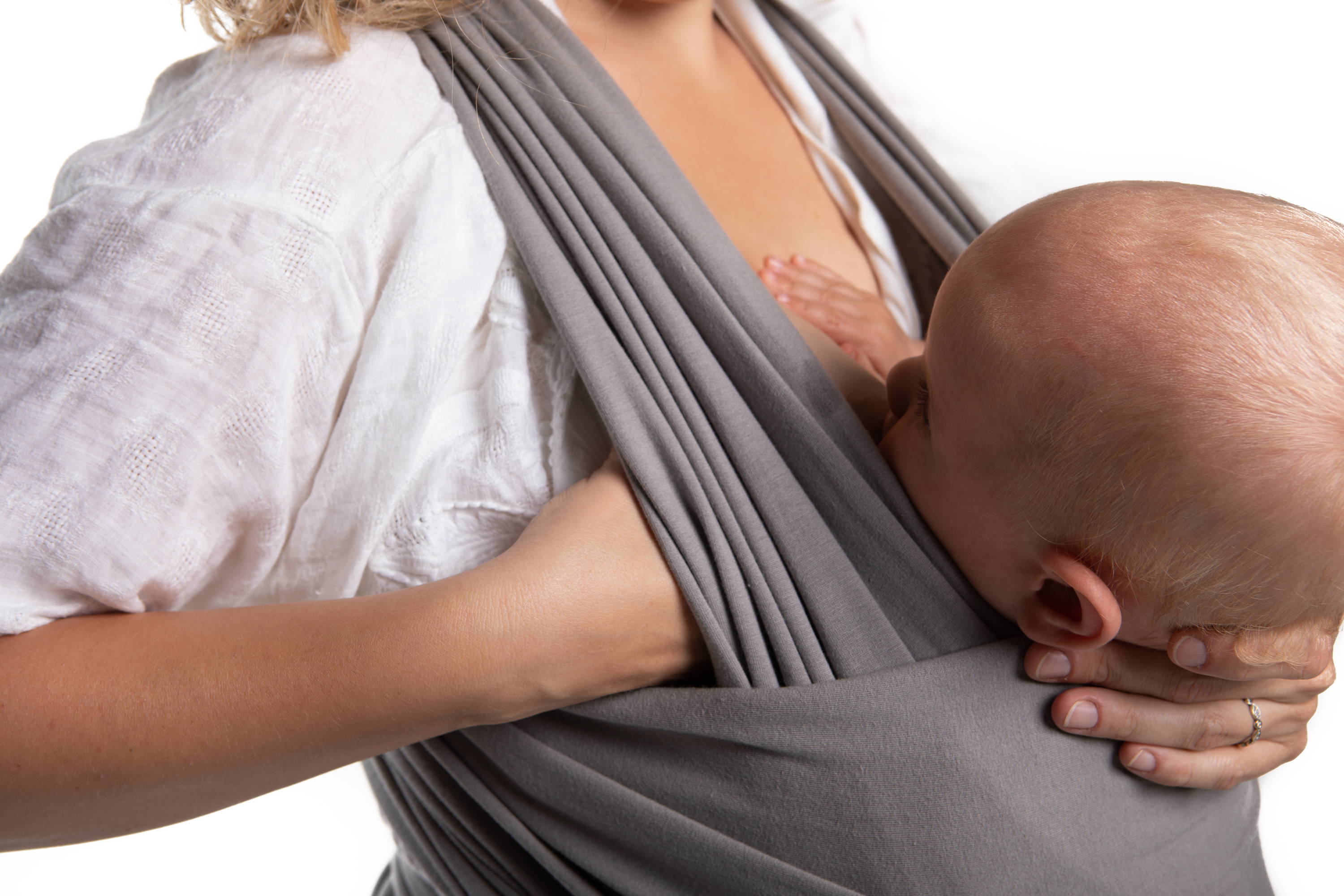 Button down shirts, deep cut v-necks or wide necked shirts are amazing when you want to avoid having to untuck your shirt.
It's easier to pull your shirt down/unbutton from the top to nurse.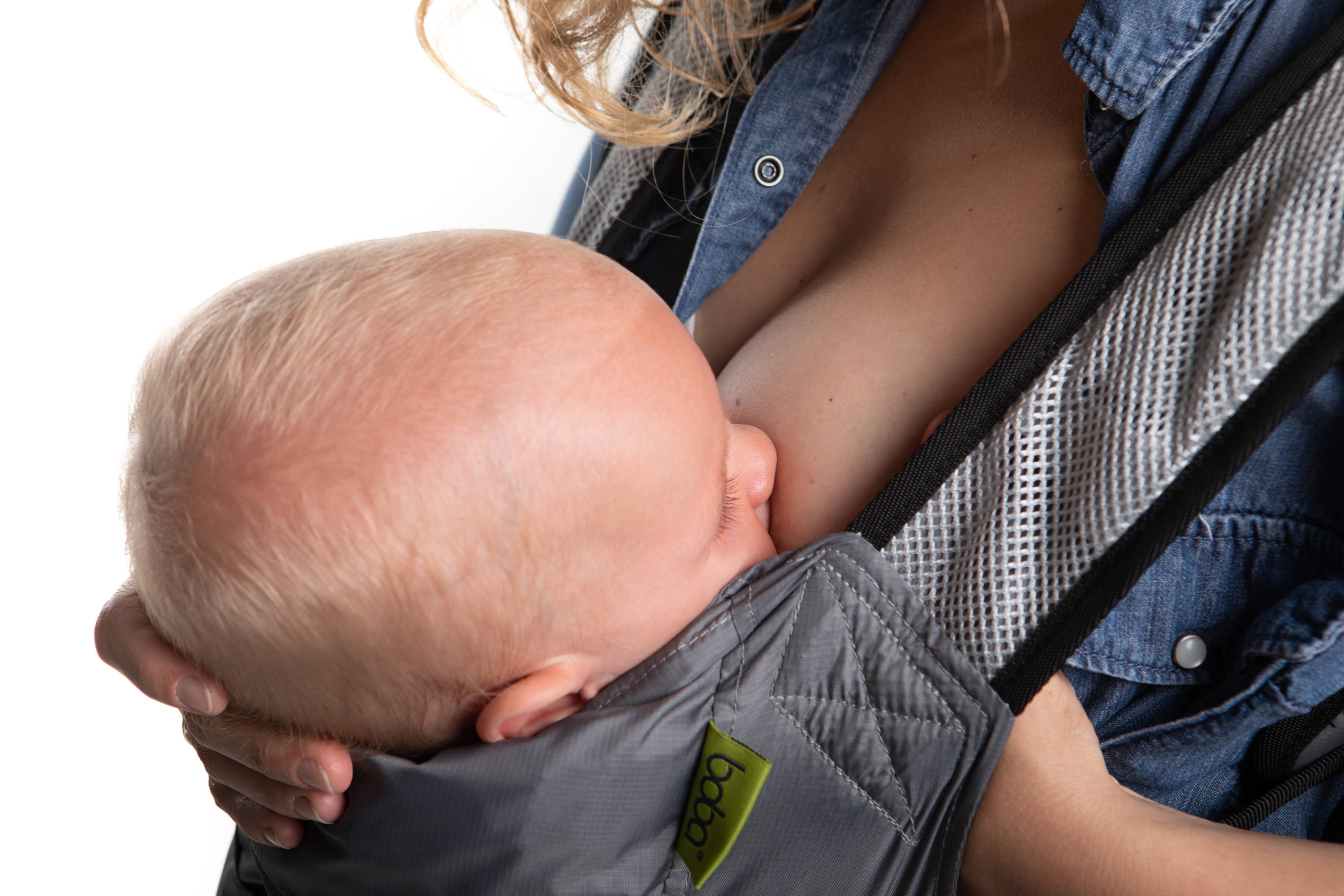 If you want coverage on top or bottom, layering your shirts is super convenient!
Just lean forward a little, reach in between yourself and your baby, lift the outer layer up and pull the undershirt down from the top (while leaving it tucked in)!
Wear a stretchy cami under everything! It will work wonders and keep you warm in the winter - win win!
... some tips for simple coverage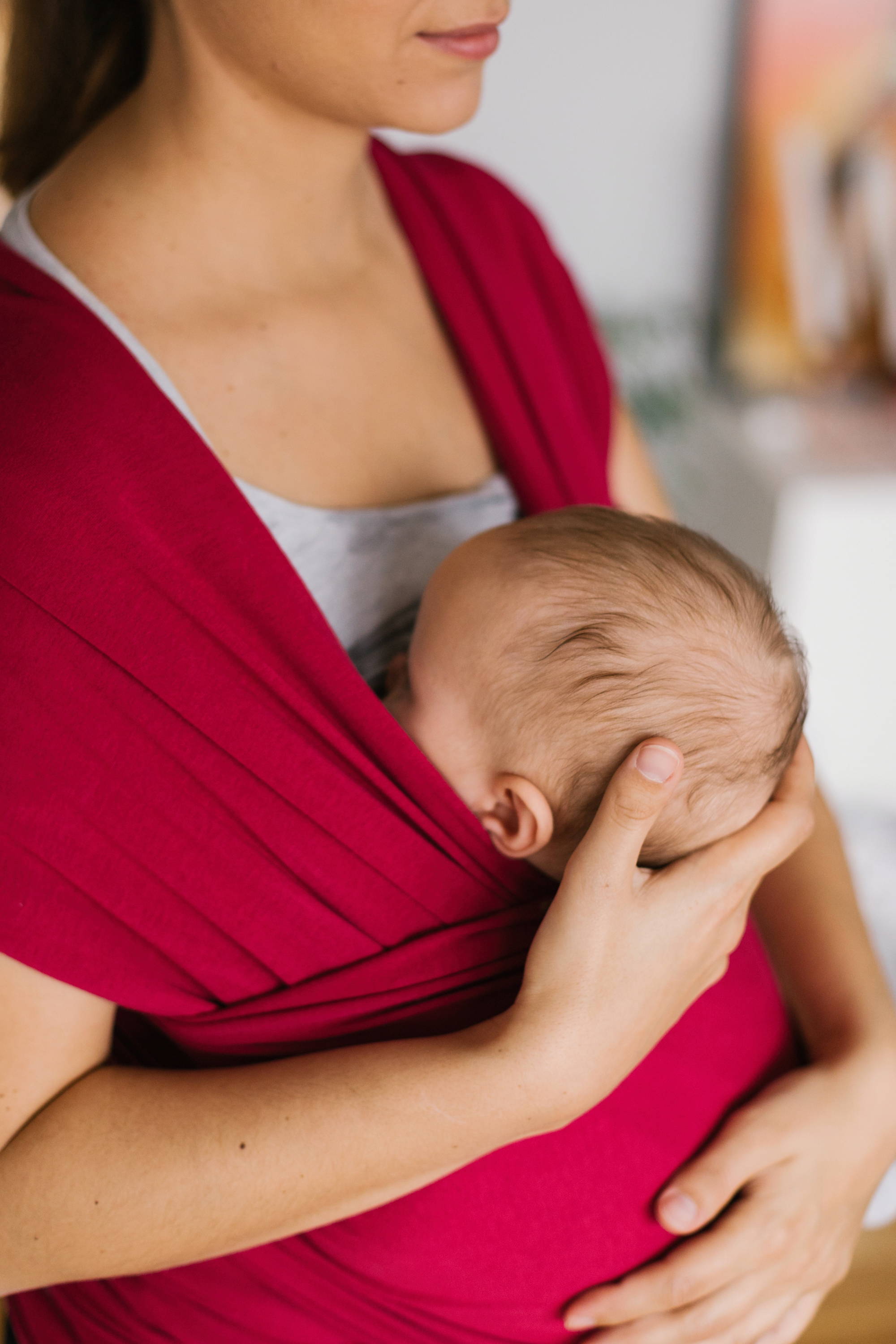 If you desire some extra privacy, the shoulder piece of the Baby wrap makes a great nursing cover!
With the Boba carrier you might want extra coverage on the top... hood works amazing as a nursing cover!
Wearing two layers makes for super discreet nursing. This way you can literally "sandwich" your breast so that you have coverage on the top and on your sides!
Make sure you can always see your baby's nose and mouth - safety over modesty!
We know the struggles that come with breastfeeding and are passionate in helping mothers succeed!
Sometimes we might need additional support, so we encourage you to contact your local La Leche League section or an independent breastfeeding consultant.

We have also included some amazing handouts by Dr. Jack Newman, who is board Certified by the AAP, a UNICEF consultant for the Baby Friendly Hospital Initiative and has evaluated Baby Friendly Hospitals in Eastern Africa and Canada.
He has published a help guide for professionals and mothers on breastfeeding called Dr. Jack Newman's Guide to Breastfeeding in Canada, and The Ultimate Breastfeeding Book of Answers in the US and these are some of the handouts he distributes in his Toronto clinic.
Empower yourself and trust your body!
There are many benefits to babywearing besides being able to nurse hands free! To learn more all about them click here.
It may take a little practice, but we promise you'll get the hang of it and it will free up your hands and time!