Giving Back

We devote ourselves to encouraging families to be the best parents they can be. We do what we can to bring babies and their parents closer when they are hit with physical challenges, financial challenges, and just plain life struggles. We devote ourselves to helping those that need a little extra help. It is our hope to empower them, and make their lives somewhat easier and their babies a little happier.
We are truly emotionally connected to the people we get to spend our days with. Tears of joy are shared and hugs are exchanged. Giving is so much more than the exchange of a wrap or carrier. It is pure love that is exchanged. The glue that holds together all human relationships.  
When reading Mother Teresa's biography one day, I remember pausing and slowly digesting her words "love begins at home". It was that moment that I didn't need to do something monumental to make the world a better place. Just needed to act with great love.To do small things with great love. Right here where I stand.
And so... though we do donate internationally, and do donate to some organizations, most our focus is on going out there and doing small things in our own community. Even though we are a small team, we intentionally devote a portion of our time to organizing and creating opportunities to collaborate and give back. If you are part of Boba you must volunteer and participate in this outreach. So far no complaints. It seems that everyone from the team comes back bursting with stories, gratitude and love.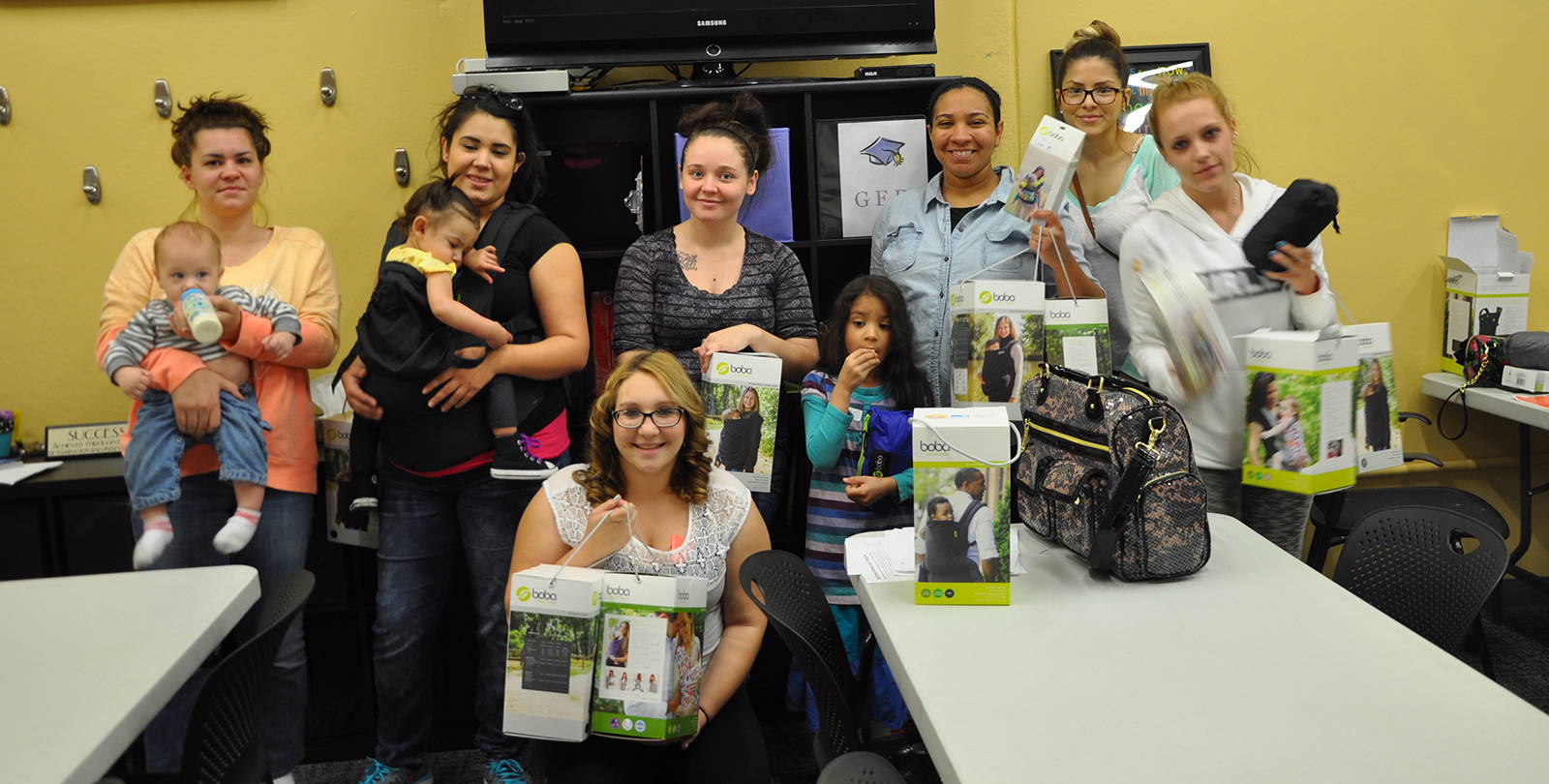 If we can do anything to bring mother and baby closer together, we do. We reach out to hospitals and explain the benefits of keeping baby close to both staff and new mothers. We donate baby wraps to caregiving nurses in the NICU's and teach them how to use them. We donate wraps to the families of preemies to bring them mentally, physically, and emotionally closer together after a stressful time of separation so they practice skin-to-skin with their babies both in the hospital and when they go home.
My soft spot is supporting pregnancy care centers and places that help house single, battered, or teen mothers. We go and visit and talk to teen moms and advocate for programs that allow the mothers to actually wear their infants to class for the first four months after birth. We also collaborate with programs in the county that send counselors out to high risk families and tell them of the benefits of babywearing, teach them how to wear their babies and give them a wrap or carrier to get them started.
We feel that we have a responsibility to talk to others about what we're passionate about. To support them. Not just rescue them with product. Instead of focusing on outcomes, we remember that we are only there for support and perhaps to offer them a different perspective. Present them them with new ideas and possibilities. We talk about the importance of touch, breastfeeding, and keeping their babies close and of the science that backs it up. But most importantly, we try to cultivate that they are the only ones who are in charge of their own lives- whether they believe it or not.

I have grown from the girl that wanted to rescue everyone to the woman that has found her own way to contribute, encourage, and care for the parents and children that are within my reach. I have learned that I, too, need to be supported and challenged to become my best self, and to be open to receiving those gifts. I am blessed to have my big little family and my husband by my side. I am blessed to have this business and an incredible team that are "all in". I am reminded constantly of how blessed we all are. And not to sweat the small stuff. A little perspective has and continues to magically transform my life.

It is because of You that we are able to touch these lives each day and empower these parents in our community. Small acts of great love.

With each parent and child that are brought together, another lifelong bond is enhanced. Imagine that ripple effect.

Pretty powerful.
Thank You for supporting Boba and what we stand for.
Warmly,
Elizabeth, Boba Founder